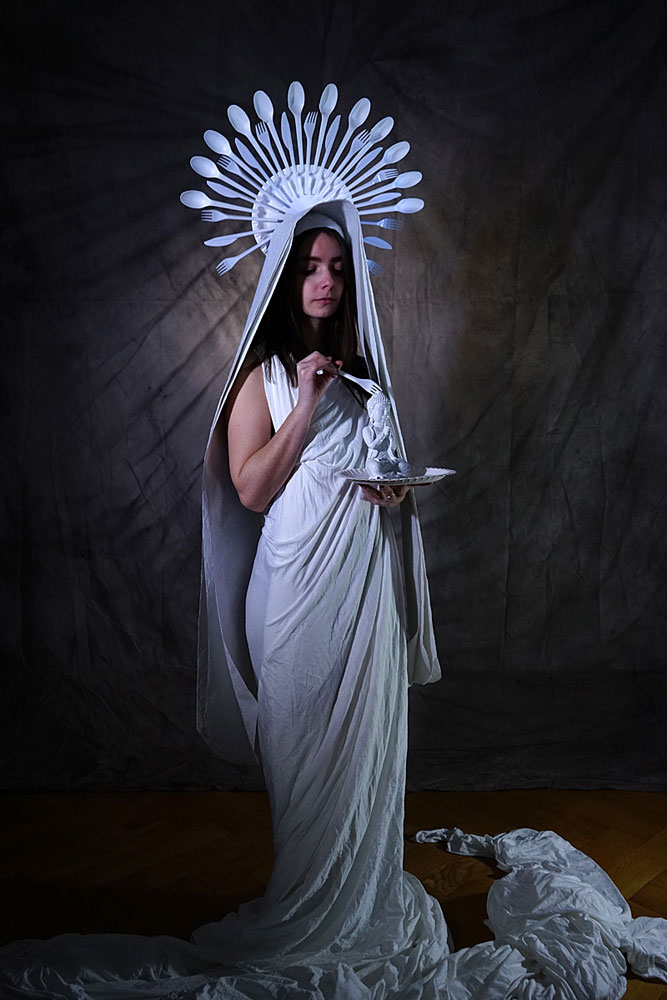 Beyond Belief
18. September – 21. November 2021
HAUS KUNST MITTE, Berlin
44 artists from 17 countries ask what spirituality means today. Across 500sqm, the paintings, sculptures, photographs, and installations present a sensual, critical, or interactive artistic exploration of the forms of contemporary and earlier waves of spirituality.
curated by Britta Adler
Opening Times:
Thursday:  17:00 – 18:30 Uhr Kuratorische Führung
Friday:           15:00 – 19:00 Uhr
Saturday:        15:00 – 19:00 Uhr
Sunday:         12:00 – 18:00 Uhr
and by appointment
To cover the expenses of the exhibition we charge Admission: 7 € (5 € reduced)
Corona Regeln: 2G
Entrance only when Geimpft oder Genesen sind.
Wear a mask and keep distance maximum 50 people at the same time in the exhibition.
For tracking purposes (if a visitor(s) had Corona) we collect your contact information, which is deleted after 2 weeks.
Curatorial concept:
Boom of Spirituality - not a niche anymore
New spirituality - a phenomenon which seems to have become more and more widespread in recent years: Tarot, Meditation, Mindfulness, Manifesting or "aligning with the Universe", .... This growing trend can be witnessed in many cultures: USA, Germany, Israel as well as Saudi Arabia and UAE, to name a few. Millennials all over the world use the same Astrology Apps and "spiritual but not religious" is highly instagramable. But how novel is this "new" spirituality actually?
Metamorphosis of Spirituality
There have been many waves of eastern spirituality blending into other cultures.This exhibition features works from earlier waves of spirituality, such as Beuys, Tapies, Baselitz, and Mary Bauermeister, alongside contemporary works focusing on the metamorphosis from traditional monotheistic belief systems to contemporary manifestations of (new) spirituality. What is new here is that spiritual perspectives and practices have found their way into everyday life, sports, psychology, wellness, and even business. How does this affect the way we live together?
Implications on society
Social change in recent centuries has often been driven by the believers of different religions. Is spirituality nowadays a mere personal matter? Or do vegan Yogis drive necessary changes for the environment? New trends in business, like holistic non-hierarchical new work are reflected in new spirituality or vice versa. On the other hand is spiritual well-being a sellable product with increasing market value. Is this a dangerous deception, or an expression of sincere yearning for soulful experiences in a religious void?
More peace through new "world religion"?
Artists from different cultural backgrounds with strong religious traditions (christian, jewish and moslem) meet in an artistic encounter and enter into dialogue about what unites us as humans. Hopefully a step towards much needed peace. Polarisation hin zu Begegnung und mehr Frieden?